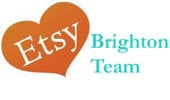 So this week I have been appointed as a Brighton Etsy Team Leader, don't know what this means? Let me explain!
So this blogpost is more for our fellow crafters than our customers, although I think the two overlap greatly!
"Etsy is a social commerce website focused on handmade or vintage items as well as art and craft supplies"
We have an etsy shop, you might have been to it before!
Etsy is an invaluable tool for crafters/designer makers to get their products out there into the reach of potential customers. Although we have been on etsy just over a year, there is so much more we could learn about it, and use this information to optimize our shop.
My role in the etsy team is to

"learn and share more information about Etsy"
Hopefully this role will help us to utilize every bit of our etsy shop and then pass that information onto other Brighton based etsy sellers!
I know that there are etsy emails, other teams and other ways that people find out about etsy, so I apologise if some information has already been brought to your attention, if it hasn't then I will feel knowledgeable and great!
So here's the first thing I want to tell you about, with some

rules (not written by myself)
Every TUESDAY and THURSDAY between 8-9pm we will be having...
#uketsyhour
This is a great time to engage with shoppers, promoting your own shop and everyone elses aswell.
★ Include the tag #uketsyhour AND include @EtsyUK somewhere in your tweet if you can. Bringing our shops to the attention of admin may result in selective retweets.
★ Don't over do it. Try not to bombard your twitter followers with too much promo in these hours. 5-10 tweets [including retweets] may be a good number to aim for.
★ Reasons. Don't just tweet 'Here's my shop, go look...' Give them a reason to look, maybe you've added a new colour choice/design/new item, point out your best seller, stock you're running low of, limited editions, sale items etc
★ Tweet another team member, but again, be subtle. Have you recently bought from another team member? Flash your transaction and link to your shop. Are you shopping aswell at that time of night? Point out what you've got your eye on in another shop. Make a point that you've got a wedding to go to, and you're looking for a new bag/tie/shoes etc be chatty, but don't over do it.
★ Click on the tag #uketsyhour and see what other team members are talking about, select a few to retweet, try and pick out ones that would relate to your customer base if you can. Also by clicking on the tag, you can see other shop members and follow them if you aren't already.
★ Please remember that this may not generate sales straight away, it's about putting your shop out there and gaining interest, which may lead to sales eventually. You can't MAKE people buy from you, but you can show your shop off and get your brand out there : )
You can join the Brighton Etsy Team here, and follow the team on twitter and facebook too! The Team has meet ups, the next one has not been organised yet, but check the above locations for details!
Let me know if this is helpful, if you think my role is a good idea, and let me know if there is anything in particular you want to find out!
ROAR!
Karli x
PS Sorry this post isn't more visual... BIG BLOCKS OF TEXT SCARE ME! But there weren't any photos to go with this post...